Make This Year One To Remember With Our Summer Camps In The Colony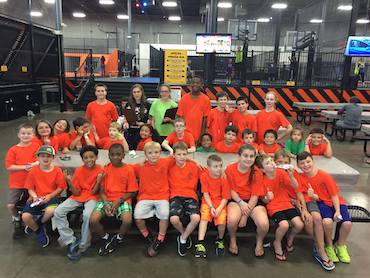 Take on the most exciting Summer Camps in The Colony at Carlos Machado Jiu-Jitsu. We offer a wide range of activities and high-quality martial arts training that can keep students active and engaged all summer long.
Being CCS certified is very important for us to feel as though we can serve our community best. That's why our program is licensed with the DFPS and all instructors have passed FBI background tests. We accept CCS/Texas Workforce Commission reimbursements!
Our Summer Camps run Monday - Friday beginning in June! Just fill out the short form to reserve your child's spot today!
From Hands-On Martial Arts Training To Exciting Activities Around Town - Our Summer Camps Have It All!
We are proud to offer campers access to our exciting Martial Arts training each and every day of summer camp. Your child can take on the best Brazilian Jiu-Jitsu instruction and challenge their bodies and minds at the same time!
Students of all ages and experience levels can take on:
Discipline and respect
Bully prevention strategies
Self-confidence in everything they do
PLUS, Our Schedule Is Jam-Packed With Exciting Field Trips And Activities
In 2017 we took trips to:
Going Bonkers Bowling
Interskate
Sky Theater
Museum of the American Railroad
Pump It Up
Urban Air Movies
Sci-Tech Museum
Coo Coo's
Nickelmania
AND more
Our 2018 schedule is in currently in progress, but you can bet it will be EVEN BIGGER AND BETTER!
Check Out Our Summer Camp Daily Schedule!
Every day of Summer Camp at Carlos Machado Jiu-Jitsu offers something new. But we aim to keep students structured and motivated with an action-packed daily schedule.
Here's what your child can expect:
7:30 a.m. Early Drop Off
8:00 - 9:00 - Regular Drop Off (arts and crafts/games offered)
9:00 - CAMP STARTS
10:00-10:45 - BJJ Class
11-NOON - LUNCH (campers must bring sack lunch & drink)
NOON– 2:00 p.m. - Off-Campus Activities (Tuesdays & Thursdays)
2:30– 3:00 - Snack/Rest Time (campers must bring a snack & water)
3:30 - 4:00 - Pick Up (movies and games offered)
5:00 - 6:30 - Late Pick-Up
Learn more about our Summer Camps in The Colony by clicking below for our Summer Camp Packet And Form:
Sign Up Today For The Most Exciting Summer Camps In The Colony!
Treat your child to an exciting experience this year with our Summer Camps at Carlos Machado Jiu-Jitsu! We're proud to work with students from all across The Colony, Lewisville, and Carrollton.
Your child will enjoy action-packed fun and incredible mental and physical growth.
Don't forget: We are a licensed childcare facility with the state of Texas and we accept CCS.
Just fill out the short form on your screen to get started today!